Annual Membership Rewards - 20% Discount Card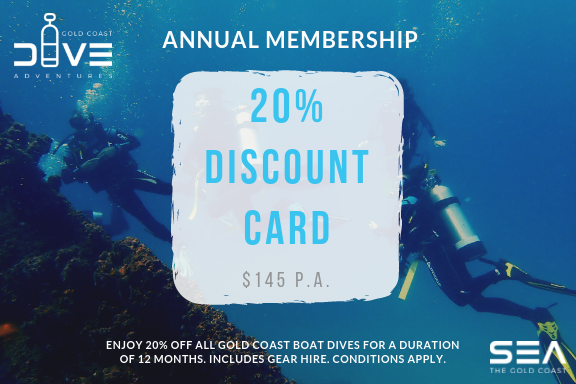 Our frequent diver rewards program allows you to enjoy 20% off all Gold Coast Dive Trips, conducted on our vessel Blue Manta as well as shore dives for a duration of 12 months including all associated equipment hire.
Further more, there will be exclusive specials throughout the year for our membership holders. For example our annual Boxing Day sale may offers 20% off all dives however, members will receive an additional discount. We will also have exclusive equipment offers that can be discounted by 20%, using the membership benefits.

Benefits
20% off Gold Coast Boat Dives and Shore Dives
20% off scuba gear hire in combination with scheduled Gold Coast dive trips
20% off selected scuba equipment items as advertised from time to time.
20% off merchandise items
How it works?
Once you purchase our 20% discount card, we will issue you your personal promotion code in order to receive your discount when booking online. The discount is applied to the booking total charge. If you are a couple or buddy team, buying 2 cards, we will issue you a combined promo code for your use.
Terms & Conditions
Limited to 1 card per person
Membership valid for 12 months from day of purchase.
The membership benefits cannot be transferred to another person nor shared with another person. If you are buying this card as a gift, please email us beforehand the name of the person receiving the benefits.
All discounted trips must be booked online via our website.
Discount applies to card holder only and not to other people on the same booking.
Discount applies to Gold Coast dives only, conducted on our own vessels. Social day trips and weekend trips are excluded unless specifically advertised on special occasions.
Does not apply to bookings already made on a date prior to purchasing the membership.
Courses are excluded from the discount.
Trips are always subject to availability. First in best dressed.
All our standard booking terms and conditions apply.
Equipment sales are discounted by 20% if specifically advertised as a 'members special'.
The purchase of this membership is non-refundable as soon as you used it once.
If you have not used your discount card yet and wish to return it, you can do so within 1 month from date of purchase.